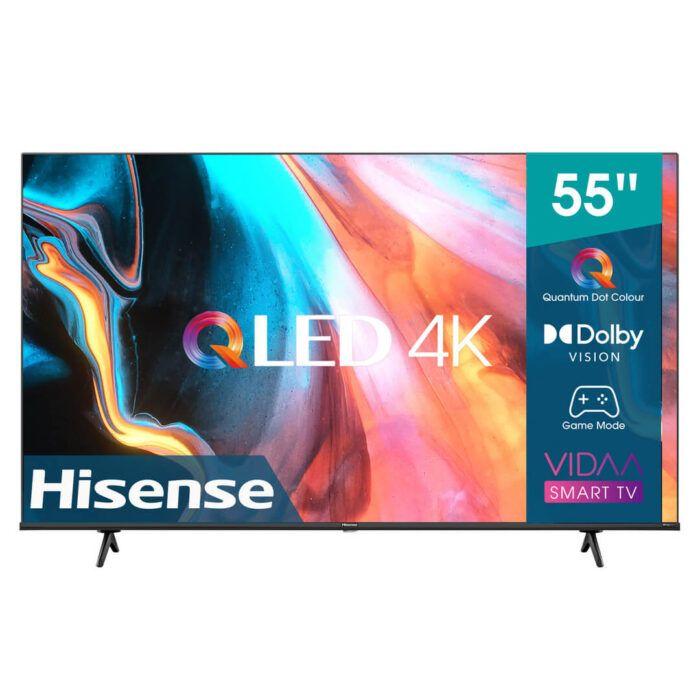 Hisense 55" ULED UHD Smart
Entry Quantum dot which offer excellent value for money, whether you're playing the latest games or into box sets, this is the perfect entertainment c...

Details
Entry Quantum dot which offer excellent value for money, whether you're playing the latest games or into box sets, this is the perfect entertainment centre. Enjoy Over one billion shades of colours can be reproduced on your display with quantum dot technology with Hisense TV brings breakthrough immersive audio experience to your home whether it is shows, games or live sports. 4K HDR Certified resolution delivers breath-taking picture quality. Bring the true cinematic experience home with support for all the latest HDR formats of HDR10+, Dolby Vision™. Hisense's new VIDAA U5 Smart TV OS lets you enjoy all your favourite entertainment from Netflix, Disney+, Prime Video, and Freeview Play, and control your TV using your voice with VIDAA Voice. Key Features Quantum Dot Color Close to reality with over 1 billion true-to-life colours. HDR10+ decoding Brighter, more detailed scenes and improved contrast values. Dolby Vision™ Inspired by cinema technology for vivid, true-to-life images. QLED 4K The Hisense QLED series in 4K resolution is equipped with Quantum Dot technology, which allows the television to display a higher colour space and purer colours. The series is not only HDR10, HDR10+ decoding, HLG compatible, but also features Dolby Vision, which allows films to be displayed exactly as directors intended. Ultra dimming and a 4K resolution upscaler ensure sophisticated image optimization so that content with a lower resolution can also be displayed perfectly. Not only in terms of image technology, but also in terms of sound, the QLED leaves nothing to be desired with Dolby Audio. Of course, popular features such as the recording function and VIDAA Voice are also included. The game mode offers special pleasure for gamers. This ensures that input delays are minimized so that the player's reaction can be seen on the screen more quickly. Visually, the series impresses with a side stand design and has a voice remote control. Billion+ Shades of Vivid Colour The colour volume of the model using QD is measured up to 93% (based on the test data in Hisense laboratory) under DCI-P3 standard. Upgrade Non-4K Content to Exceptional-4K Quality UHD AI Upscaler Instead of simply upscaling, Hisense UHD AI Upscaler computes the colour of adjacent pixels and automatically compensates the right coloured pixels scene by scene, and you will get a more detailed and a clearer picture. A 1080p image upscaled by UHD Upscaler results in natural 4K detail. Sports Mode Smoother picture with no judder or blur. One Touch Access One-click Access to the Most Popular Global Applications Directly access Netflix and other services on your VIDAA Smart TV, even when your TV is off. One-click of the direct access button wakes up the TV and launches the application. Game Mode Ultra Smooth Gaming, Incredible Response When the TV is connected to an external game devise through an HDMI cable, Game Mode plus function allows your Hisense TV turns off necessary picture quality adjustments for a lower latency mode automatically. Edge-to-Edge Precision of Lights Direct Full Array The Direct Full Array backlight in LED TVs can be evenly transmitted to the entire screen. The advantage is that the brightness is uniform and the light leakage is greatly reduced. AI Real-time Scenario-specific Optimisation The system continually captures the objects in each scene and compare them with a cloud-based database to identify the scenario, and then the TV will adjust automatically the picture through PQ parameter settings for the best viewing experience.