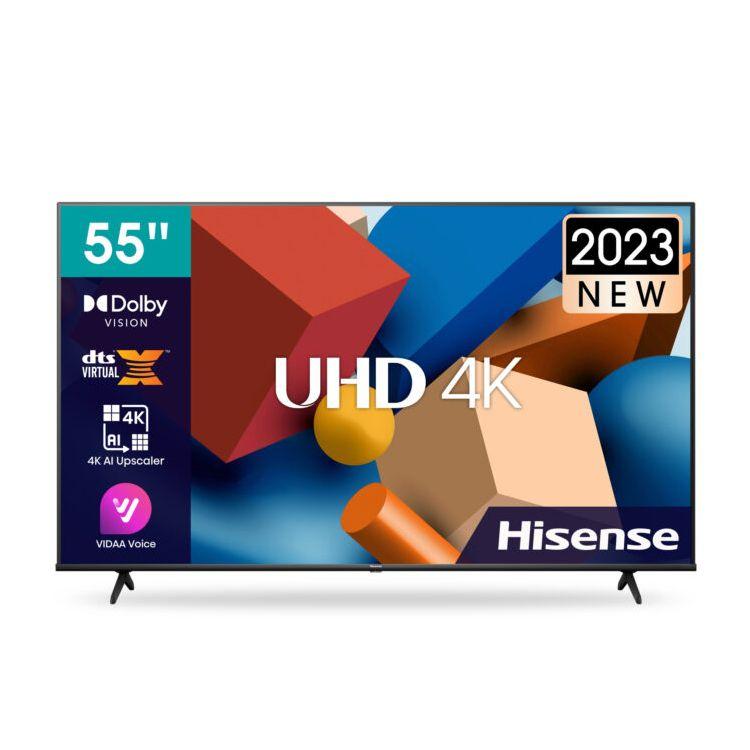 Hisense 55" Entry UHD Smart
Exceptionally-Detailed 4K Quality for All Your Favourite Content Binge watch your favorite shows, immerse yourself in the latest movies, or thrill in...

Details
Exceptionally-Detailed 4K Quality for All Your Favourite Content Binge watch your favorite shows, immerse yourself in the latest movies, or thrill in every moment of the hottest games. Treat yourself with a Hisense 4KTV that pulls you right into the centre of the action. A Pitch-Black Picture from Edge to Edge In contrast to more common edge-lit LED screens, Direct Full Array distributes the lights evenly across the screen for even and steady blacks. The Layers Define the Story A more dramatic viewing experience, with a well-defined sense of distance. With Al Adaptive Depth, now you can see a windy road that leads up to a crisp, snow-covered mountain with clearly-defined ridges and peaks Purest Expression of Colour Thanks to advanced embedded algorithms it also reproduces more accurate, natural-looking colours. See the Content in Dazzling Details Whether you want to catch up on the latest content or simply enjoy some time with your favourite immersive games, this TV delivers original content with better detail in the shadows and brighter highlights. Smoother Picture with No Blur HSR | 120-HDMI | *Optional On/Off Buttion Available. Stunning Entertainment Experiences Deserve Immersive TV Audio DTS* Virtual: X™M technology for TV speakers brings entertainment alive by delivering enhanced tv sound and an immersive home theater experience. The result? Sound appears to emerge from all around you, without the need for a multi-speaker setup. You'll recognize richer bass, notice clearer dialog, and be amazed how it transforms your experience when watching movies, listening to music and playing games. All from just your TV. Ultra-Smooth Gaming, Incredible Response Play your best with the help of Game Mode PLUS, a collection of technologies combined to offer you a smooth, stress-free gaming experience. A 60Hz panel, variable refresh rate (VR), and auto low latency mode (ALLM) come together to ensure your graphics card and screen are working in lockstep. Show off your skills unencumbered by latency issues for a smooth path to success. Al Real-Time Scenario-Specific Optimization Bring your real-time virtual TV technical expert home to get the most out of your content. Stadium-Level Enjoyment-Right in Your Home Al Sports Mode enables the best picture and audio quality for the smoothest ever viewing experience. The stadium looks never before greener. As the player holds breath to get ready for an important goal, the eyebrow-frowning, mouth-trembling, all the trivial expressions can't be seen clearer. The commentator's enthusiastic commentary speaks clear, the players' celebratory shouts as they score, audiences screaming and cheering at a perfect goal. The immersive, wraparound sound pushes the experience of watching a match to the very limit! Enjoy it All on a Bigger Screen Share your smaller screen to get the bigger picture. "Screen Sharing" mirrors what you have on your phone, so you can share the view with your family and friends for an enjoyable viewing experience, together. It also provides you with the convenience of casting only the content to the TV using "Content Sharing", while you continue to use your device for other tasks. That's real sharing!